Special Envoy Mitchell turns back doubts on Mideast peace talks -- excerpts
(Read article summary)
At a press conference, the US envoy to the Middle East turned back doubts about the resumption of direct negotiations between Israel and the Palestinians. By harking back to his own experience and by pointing to the big picture, Mitchell brought hope to a process with a history of failure.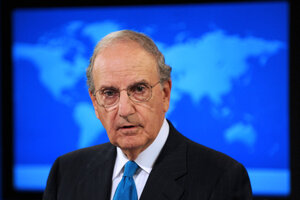 AFP/Newscom
I was struck by the sense of uplift in the remarks of Special Mideast Envoy George Mitchell at his Aug. 20 press conference. He kept pointing to the larger context as he answered reporters' questions about the planned return to direct negotiations between Israel and the Palestinians, scheduled to resume on Sept. 2 after months on ice.
Given the history of failure in such talks, many of the questions naturally focused on obstacles. But the former senator determinedly turned back the doubts. He strode the moral high road and kept pointing to the bigger picture as a way around roadblocks to the final destination of two states.
While the devil may be in the details of negotiation, could it be that continual emphasis on the big picture, on the larger stakes, is what will keep negotiators at the table and result in an agreement?
Rather than sum up what he said, here's Mr. Mitchell in his own eloquent words. The following are key excerpts. The questions have been paraphrased:
Q. All parties have been down this road many times before. What engenders hope this time that these talks will have their intended end?
A. I'll return, if I might, to my experience in Northern Ireland. I chaired three separate sets of discussions in Northern Ireland, spanning a period overall of five years. The main negotiation lasted for 22 months. During that time, the effort was repeatedly branded a failure. I was asked at least dozens, perhaps hundreds, of times when I was leaving because the effort had failed.
And of course, if the objective is to achieve a peace agreement, until you do achieve one, you have failed to do so. In a sense, in Northern Ireland, we had about 700 days of failure and one day of success. And we approach this task with the same determination to succeed notwithstanding the difficulties and notwithstanding the inability to get a final result so far, including past efforts. But past efforts at peace that did not succeed cannot deter us from trying again, because the cause is noble and just and right for all concerned.
---