Democrats in midterm trouble? Scenes from a Massachusetts driveway.
(Read article summary)
When Democrats go door-to-door in liberal Massachusetts, you know they're feeling the heat.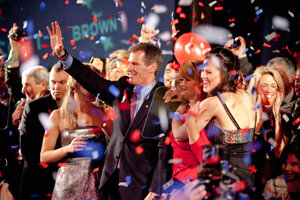 v19/ZUMA Press/Newscom
When referring to their prospects in this fall's midterm elections, reporters often say that Democrats "have a big hill to climb."
In my neighborhood, that applies literally.
My shared driveway is steep – cover it with snow and you'd have a triple black-diamond ski trail at Vail. It's intimidating enough to keep away most door-to-door solicitors.
But not the Democratic volunteer who visited my house Sunday. Huffing and puffing, but still smiling, she greeted me with a "How ya' doin' today?" and promptly passed out pamphlets supporting the reelections of state Senator Jamie Eldridge and US Rep. Jim McGovern.
In Massachusetts, Democratic politicians usually just need to spell their names correctly to win big at the ballot. Congressman McGovern, in office since 1997, won his last contest with 98 percent of the vote. And state Senator Eldridge cruised to victory in his first Senate battle in 2008.
Real competition
Yet both candidates now feel threatened enough to make a scrappy volunteer hike up my driveway. Mr. McGovern, who in years past often ran virtually unopposed, now faces one of five Republicans (the primary is today) and an independent. Mr. Eldridge faces a Republican who hails from my hometown.
You can call this healthy political competition here the Scott Brown effect.
---