GOP Pledge: Life, liberty, and steak! But where are the young Americans?
(Read article summary)
The photos in the House Republicans' new Pledge to America booklet show what conservatives love about America – and reveal a huge hole in their agenda.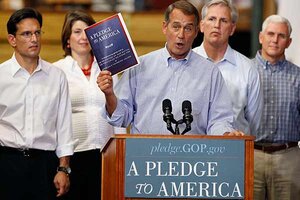 Larry Downing/Reuters
Modern politicians are masters of imagery. That's why you'll rarely see a presidential speech these days without a sea of citizens right behind the podium.
So it was no surprise to see House Republican leaders put forward their new "Pledge to America" yesterday at a lumber store in Virginia. With open-collar shirt and sleeves rolled up, all that would-be Majority Leader John Boehner (R) of Ohio lacked was a tool belt and a hard hat.
What was surprising was the array of photos GOP leaders chose to sprinkle throughout their new booklet.
Heavy on the patriotism
Much of it was standard fare. Between shots of Mt. Rushmore, the Statue of Liberty, and American flags, it doesn't take a "Harvard symbologist" like Robert Langdon to see that Republicans set the patriotism dial to a Spinal Tap level 11 (see video clip at the end of this post). Other photos reveal that Republicans love:
• Cowboys and horses.
• Red meat. No, really, the third image is a shot of a butcher shop case full of mouth-watering steaks.
• Showing off this chart to illustrate the complexity of health-care reform. (Did the GOP secretly hire the "Where's Waldo?" illustrator to make it?)
---