Leave the driving to … Google?
(Read article summary)
Google is experimenting by putting computer-driven cars on the road. But the futuristic idea still faces a lot of practical speed bumps.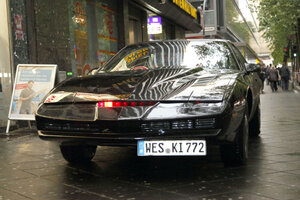 ZUMAPress/Newscom/file
I don't like cruise control. Maybe it's because I drive on crowded highways in the congested Boston metro area. It seems as though I barely get the thing set up before I'm braking to avoid something and then hitting "resume" to get it going again. It's a high-tech driving assistant, aimed at making driving less toilsome. But I chafe at the idea of giving up my control of the car. I say "why bother?"
Over the weekend Google – which seems to be looking at infinite possibilities beyond its core business of helping people search the Web these days – announced it was testing "driverless" Toyota Priuses on California roads. This comes on top of recent announcements that Google is launching Google TV and underwriting offshore wind farms.
A thicket of legal hassles would seems to await any company trying to automate vehicles. Who is responsible if a computer is at the wheel during an accident? The owner? The manufacturer? (More bizarrely, might vehicle owners someday be sued for not having a computer on board that could have avoided an accident?)
Like flying cars, driverless cars have been the subject of science fiction for decades. KITT, the computer-driven 1982 Pontiac Trans Am (voiced with patrician disdain by William Daniels), entranced young women of a certain age who watched the 1980s TV series "Knight Rider" (or was it chiseled actor David Hasselhoff, who tagged along for the ride?).
---