Juan Williams firing: Does journalism need more objectivity -- or more transparency?
(Read article summary)
NPR's Juan Williams was fired after remarks he made on Fox News about his anxiety over seeing Muslims on planes.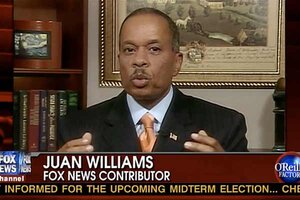 Fox News screengrab
Remember when journalists like Jayson Blair and Stephen Glass were fired for lying? Now, in the wake of Juan Williams's firing from NPR, it seems like the bigger risk journalists take is when they tell the truth – at least about their own feelings.
Straddling two worlds
Mr. Williams, as dual analyst for both Fox News and National Public Radio, personified the increasingly divergent models of journalism in America: the "objective" one, symbolized by NPR, and the "opinionated" one, symbolized by Fox.
After Williams confessed to Bill O'Reilly that he feels "nervous" and "worried" when he sees people in Muslim garb on a plane, NPR fired him – while Fox News then gave him a new three-year, $2 million contract.
Williams is just the latest big-name reporter, after Rich Sanchez and Helen Thomas, to be fired for expressing a personal opinion about a sensitive topic.
---