Will Facebook spell the end of Christmas letters?
(Read article summary)
Your Facebook friends already know what's been going on in your life for the past year. Does this mean the extinction of the annual Christmas letter, and thus, another missing piece for historians?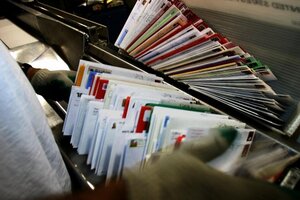 ROBYN BECK/AFP/Newscom/file
For my friends and family who are not on Facebook, I usually explain it this way: It's like sending out the annual Christmas letter, except in little bits throughout the year. Your friends can see your news; you can see theirs; and you can comment on each other's.
Now that I'm sitting down to write the real annual Christmas letter, it suddenly hit me. Do I have anything left to say beyond a sign-off in a greeting card? Is the Christmas letter – that last written reportage of personal life in any given year – about to go extinct?
After all, my Facebook friends already know what I've been up to.
They know I just got back from a weekend in Philadelphia, where my husband and I walked in the footsteps of the founding fathers and also taste-tested Philly cheesesteaks (Pat's King of Steaks won, due to superior grilled onions and crispier bread). They know what I've been writing and blogging about in my journalistic life. They know that in Washington we had a glorious fall that lingered like smoke from yesteryear's pile of burning leaves.
Not that any of that is vital information per se. But historians lament the ongoing decline of the written letter, prompted by the introduction of the telegraph, then the telephone, and now the Internet. Writers may attempt to store their digital correspondence, but storage devices change, confounding archivists. Remember floppy disks?
---