EU opens the door to citizen petitions for new laws
(Read article summary)
For the first time, citizens of the 27-member European Union will be able to collect signatures and suggest Europe-wide laws through a citizens' initiative. This may narrow the gap between the public and a distant-feeling EU government in Brussels. Possible topics: animal rights and modified food.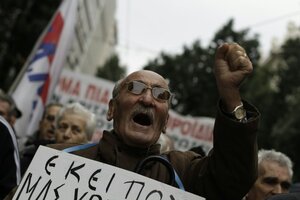 AFP PHOTO / Kostas Tsironis/Newscom
Californians, they're not. But the citizens of Europe will soon have the opportunity to catch the California spirit and offer up signature-driven initiatives that could eventually become European law.
This week the European Parliament approved the European Citizens' Initiative, which allows members of the public for the first time to directly suggest Europe-wide laws.
Anything that makes the government of the 27-nation European Union more accessible to citizens is a good thing.
I lived as a reporter in Germany for five years and I still have trouble keeping all those EU institutions straight. But it isn't just me. "Brussels" – shorthand for the EU, because it's based in the Belgian capital – also feels distant and impenetrable to many Europeans. In 2005, French and Dutch voters sunk an effort to create a new EU "constitution." They deemed it "elitist," among other things.
The initiative idea can help close that gap. Under the provisions approved this week, it will take a million citizens from at least a quarter of the EU member states to get a proposal going.
But it won't be like the ballot proposition process that Americans are familiar with. A European initiative would have to first be submitted to the European Commission – the executive arm of the EU. It is the Commission that has the power to actually propose legislation. The Commission may choose to submit the citizen petition as legislation, or it may choose not to.
---