Iran ends fuel and food subsidies -- and my easy access to saffron
(Read article summary)
On Dec. 19, prices for basics from bread to gasoline jumped after the Iranian government ended subsidies. How will this turmoil influence Iran's negotiating position over its nuclear program? And what about my Persian saffron for cooking?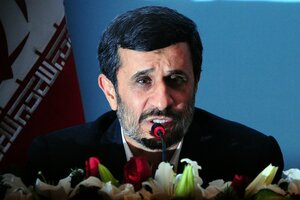 MUSTAFA OZER/AFP/Getty Images/Newscom
An Iranian friend of mine living in America has been a good source for the most luxurious spice of all – Persian saffron.
But no more.
A combination of economic sanctions on Iran over its nuclear program and Tehran's end to government subsidies on fuel and food has meant the easy export of inexpensive saffron will become more difficult. I'll need to start cooking with less-tasty saffron from Spain or elsewhere.
But my food preferences hardly matter compared to the current events in Iran that may reshape the Middle East. The end of subsidies this week could be the most jarring political event there since street riots after the rigged 2009 elections.
The price of bread has tripled since Sunday. Truckers are on strike over fuel prices that have risen nearly twenty-fold. Security forces have fanned out in major cities to quell any protests. Longer term, a general hike in prices will speed up inflation, eroding incomes – as well as Iran's negotiating power with the West over its nuclear ambitions.
---