Will the 112th Congress work hard -- or hardly work?
(Read article summary)
As the 112th Congress begins this week, Republicans are starting to roll out their agenda. But they'll have to accomplish their to-do list with a tighter schedule, thanks to a new legislative calendar set by House Majority Leader Eric Cantor.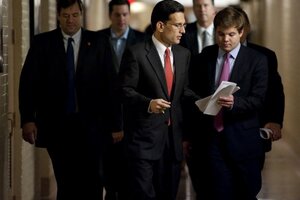 Scott J. Ferrell/Congressional Quarterly/Newscom
Would you like to earn a week's vacation for every two weeks you work? If so, you should run for Congress. According to the restructured legislative calendar that new House Majority Leader Eric Cantor (R) of Virginia has set, House lawmakers in Washington will generally stay in session for two consecutive weeks, then get a week off.
To be sure, few members will head to the beach. Between fundraisers, town-hall meetings, and constituent services, they tend to work at least as hard out of session as they do in it. Still, the new calendar has plenty of critics.
Do-nothing Congress?
"It's hard to imagine why nothing gets done in Washington," scoffed blogger Barbara Morrill at the liberal Daily Kos website. Even some conservatives are upset. Freshman tea party member Allen West (R) of Florida complained that the calendar doesn't square with voter priorities.
"As we know, Congress needs to work to create jobs, reduce the deficit, strengthen our economy, limit the size of government, and contend with a plethora of national security issues," Rep. West wrote in a letter to Rep. Cantor. "How are we to do that when, among other things, we start off being in session only ten days the entire month of January?"
---