The clout and cover of Tom Donohue
(Read article summary)
Unlike a politician, Thomas Donohue -- CEO of the US Chamber of Commerce -- doesn't have to worry about the next election. He can provide cover to politicians who might get scared off by tough decisions on the economy and spending.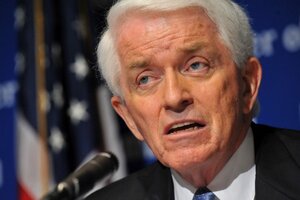 UPI/Kevin Dietsch/Newscom
It's pointing out the obvious perhaps, but what's notable about America's No. 1 lobbyist for business – Thomas Donohue, CEO of the US Chamber of Commerce – is that he's not a politician.
This is particularly useful right now because the country faces tough economic and budget choices that could scare off political action. Unlike a pol, Mr. Donohue doesn't need to watch his backside or worry about the next election. Now, when the government has pretty much run out of stimulative options for the economy and is depending on the private sector to revive jobs, Donohue has maximum clout. He can use it to provide cover for those in Washington who need to make difficult policy decisions.
Plain-spoken and fair-minded, Donohue talked about several of the tough choices ahead in his annual "State of American Business" address this morning. (The headline: He predicts 3.2 percent growth for the year; 2.4 to 2.6 million new jobs – more bullish than many forecasts but a prediction that's also loaded with caveats, such as rising oil prices.)
---