A Chinese menu for President Hu Jintao's visit to the US
(Read article summary)
Here's a list of things to watch for as President Hu Jintao visits the US Jan. 18-21, starting with the body language between Hu and Obama.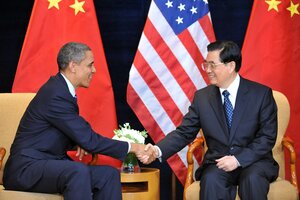 TIM SLOAN/AFP/Getty Images/Newscom
The Chinese often speak in numbers, as in the "four pillars of destiny," Mao's "five-anti" campaign, or the Three Gorges Dam. (That was the Three-Examples List.)
In this spirit, here is the Four Things to Watch For list to help anyone who might be watching the Jan. 18-21 visit of Chinese President Hu Jintao to the United States (notice they also all start with "B" – which also helps in remembering them):
1. Bonding buddies: How cozy have President Obama and President Hu become after their many summits? Personal relations matter in diplomacy, even more so as these two giant countries try not to clash with each other. Will they smile at each other, stand close, share intimacies? First names, perhaps? (Or is it last names, in China?)
2. Big protocol oops: Hu's last official visit in 2006 was marred by at least two incidents. An interpreter mistakenly announced the Chinese national anthem as that of the "Republic of China," the official name of Taiwan. Then, in a White House press conference, a Chinese dissident raised a flag of protest. Similar mistakes this time would force Hu to lose face as he prepares to leave office next year.
---