Blasphemy law kills a Pakistan minister
(Read article summary)
The state in Pakistan has yet to execute someone for blasphemy. But that hasn't prevented killings related to this archaic law, such as the murder of a Christian cabinet minister for his effort to reform the law.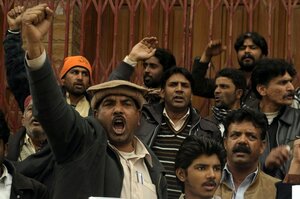 BANARAS KHAN/AFP/Getty Images/Newscom
The murder of a leading Christian lawmaker in Pakistan today made me want to find out more about the cause that he died for. As Pakistan's minister for minority affairs, Shahbaz Bhatti led a political fight to reform the archaic blasphemy law of this mostly Islamic country.
Leaflets signed by the Pakistan Taliban at the scene of the crime accused Mr. Bhatti of having "insulted the prophet." They warned that others who try to reform the blasphemy law "will meet the same fate." Sadly, in January, another prominent Pakistani politician did.
A good authority on Pakistan's blasphemy law is the bipartisan US Commission on International Religious Freedom in Washington. Based on the commission's 2010 report, Pakistan's blasphemy law requires no evidence after someone has been accused of violating the law. There are no penalties for making false accusations, which are common. Extremists use bogus accusations to intimidate religious minorities, such as Christians and Ahmadis, or Muslims with whom they disagree.
It's easy to make a false accusation, and once someone goes to trial, it's easy to influence the judge. There is no due process, and "Islamic militants often pack the courtroom and publicly threaten violence if there is an acquittal." The militants make good on those threats.
Each year, scores of arrests for blasphemy are reported in Pakistan. Prescribed punishment includes life in prison and the death penalty, though the state has yet to execute anyone for blasphemy. Here are some examples of the human impact, according to the commission's report:
---