Is Gandhi really in hell?
(Read article summary)
Popular Christian pastor Rob Bell's provocative new book has evangelicals renewing an old debate about hell and salvation.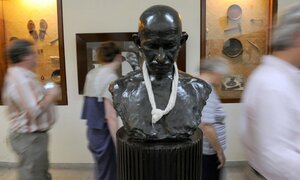 INDRANIL MUKHERJEE/AFP/Getty Images/Newscom
If you're a Christian, do you believe that billions of the world's non-Christians will go to hell? Do you think the question even matters?
Pastor Rob Bell thinks it does matter. The founding pastor of Mars Hill Bible Church in Michigan, Mr. Bell is a young and influential Christian speaker who's ruffling feathers with his latest book, "Love Wins: A Book About Heaven, Hell, and the Fate of Every Person Who Ever Lived." It challenges some of Christianity's most fundamental beliefs about salvation.
According to the publisher's description, Mr. Bell argues "that a loving God would never sentence human souls to eternal suffering." And in his own promotional video, Bell puts adherents of traditional teachings on the defensive with a stark question about Gandhi, India's Hindu hero of nonviolent resistance: "Gandhi's in hell? He is? And someone knows this for sure?"
Here's the YouTube video:
The backlash to his book and video has been intense, resulting in charges of heresy and a robust defense of hell from leading conservative evangelicals. Those who rebut Bell with Scripture have plenty of verses to choose from, as this blog illustrates.
But debates over hell are as old as the Bible itself and the near-unanimous belief in eternal punishment has been giving way to kinder, gentler views (including universal salvation) about the afterlife since at least the 19th century, so why is Bell's book causing such controversy today?
---