If America were a corporation, would you invest in it?
(Read article summary)
A new PowerPoint presentation analyzes America's financial condition in corporate terms. The figures and conclusions are scary. But there's also reason for hope. Remember Apple in 1997?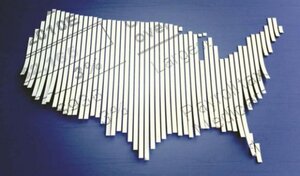 (Credit: Kleiner Perkins)
Take a mental trip back to 1997. Silicon Valley's tech boom is in full swing. Yet a share of Apple is just $5. Gil Amelio is CEO. The company is on pace to lose $1 billion. Did you invest?
If you had, you'd be sitting on a pile of cash. Today, Apple's share price tops $330. It's one of the wealthiest companies in the world.
Now, imagine you're a shareholder debating whether to invest in "USA Inc." It's bleeding cash ($2 trillion last year). Its "board of directors" is divided over budget cuts and may have to shut down operations on April 8. Would you invest?
If you said "No," you'd have plenty of company; fears of America's economic collapse seem to be growing daily. But you also might be missing out on a great turnaround story – if USA Inc.'s leaders commit to a radical turnaround plan.
That's the heart of Mary Meeker's bold analysis of America's financial condition. She's a longtime Morgan Stanley tech-stock analyst who recently joined legendary venture capital firm Kleiner Perkins Caufield & Byers. By treating the country as a corporation (and citizens as shareholders) she has brought fresh thinking and new urgency to the nation's fiscal straits. If you have lots of time on your hands, you can leaf through her 460-page PowerPoint presentation here. If you don't, here is the salient point from her recent article in Bloomberg Businesweek:
---