Thirty years after Reagan was shot, Jim and Sarah Brady courageously keep the pressure on for gun control
(Read article summary)
As Reagan's press secretary, Jim Brady was seriously wounded during the shooting. You have to admire the dedication of the Bradys to keep pushing for reasonable gun control laws. But as the Bradys acknowledge, Washington must find the courage to stand up to the NRA.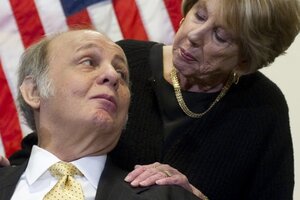 Credit: Saul Loeb/AFP Photo/Newscom
Remember the Bradys? Not the bunch, but the dedicated couple that has pushed gun control for decades.
Thirty years ago, Jim Brady was shot in the head as part of the assassination attempt on President Reagan by John Hinckley. At the time, Mr. Brady was the president's press secretary. This week, Brady – in a wheelchair – and his wife, Sarah, visited the Capitol and White House to again advocate for restrictions on guns.
One marvels that they have not yet given up. Through "tear-stained optimism," as Sarah Brady put it in a Washington Post oped, they believe it's still possible to better restrict access to guns for those who shouldn't have them, without trampling on the rights of the many law-abiding citizens who own or want to buy firearms.
I was particularly interested in the analogy that Mrs. Brady made between the fight for more sensible gun laws and the struggle for a woman's right to vote and for full citizenship for African Americans. "Isn't that a bit of a stretch?" I asked myself as I read her piece in the Post. But then I looked at it a second time, and I realized she was underscoring the need for political courage in the face of intimidation as the thread that binds these three subjects.
Courage is the single most important ingredient needed to enact new laws to reduce gun violence.
---