Nice shot, governor
(Read article summary)
Arizona Gov. Jan Brewer, a gun-rights advocate, vetoed legislation to partially lift her state's ban on guns at college and university campuses. Glocks and frat parties don't mix.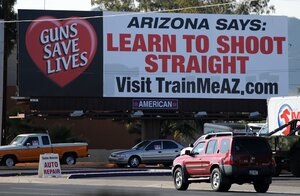 Art Foxall/ART FOXALL/Newscom
The National Rifle Association rates Arizona Gov. Jan Brewer as an A+ gun supporter. This week, though, she flunked an NRA test.
Good work, governor.
The gun-rights Republican vetoed a bill that would have partially lifted the state's ban on guns at college and university campuses. The bill, altered from earlier wording that would have allowed loaded guns in classrooms, was changed to allow them only on a "public right of way." In her veto letter, the governor said that the bill was too vaguely worded and might have been interpreted to permit weapons at K-12 schools.
Across the nation, the gun lobby has been working hard to get weapons on campuses. It is pushing to lift the ban in Texas and eight other states. But this is one area where those who support reasonable restrictions on guns have had success. Since the mass shooting at Virginia Tech in 2007, guns-on-campus bills have been shot down or died in 24 states.
The NRA argues that people on campuses need guns for self defense and that the presence of guns will not lead to more violence. They point to Utah, the one state that has lifted the ban, as Exhibit A. It has not seen violence increase on campuses since the ban was removed in 2006.
---