Qatar: The small Arab monarchy with the loud democratic voice
(Read article summary)
It's a contradiction. Qatar, the Gulf country which sits atop a huge natural gas field, is ruled firmly as a monarchy. And yet it has become a strong advocate of democracy in the Arab Spring.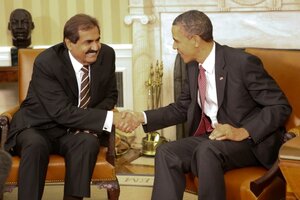 Credit: Gary Fabiano/Sipa Press/Newscom
Qatar, the tiny monarchy on the Persian Gulf that's rich in natural gas, is by no means a free country. And yet, it's become a champion for freedom in North Africa and the Middle East. Can it be a credible advocate, given its own democracy deficit?
It won high praise from President Obama as the prime Arab backer of the democratic cause in Libya. It led the Arab League to support the no-fly zone over Libya, and then it sent its fighter jets to enforce it. Qatar became the first Arab country to recognize the rebel transitional council as the only legitimate government in Libya. It's helping the rebels market their oil.
There's more. That stubborn dictator in Yemen who won't leave? Qatar and other countries the belong to the six-member Gulf Cooperation Council have been working on a deal to get him to quit. Meanwhile, Qatar wants to set up a Middle East Development Bank to support Arab countries as they undergo democratic transitions. The bank would be modeled on the European Bank of Reconstruction and Development that proved so crucial in helping Central and Eastern Europe after the fall of the Berlin Wall.
---