Boston Marathon bombings won't define my first marathon
(Read article summary)
At mile 25.7, after already mentally penning my celebratory email, I hit a wall of dazed, shuffling athletes. I regret not finishing the Boston Marathon yesterday, but the bombings didn't define my first marathon and they won't mar this tradition.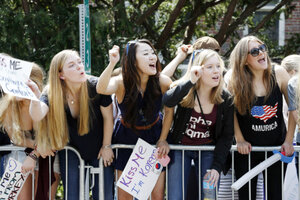 Michael Dwyer/AP
About seven months into my time as a Boston transplant, I witnessed the 2012 Boston Marathon. The heat was unbelievable, rendering otherwise healthy athletes immobile after hours on the course. But somehow the race and the energy of the day drew me in.
I barely considered myself a Bostonian and definitely never before thought about running a marathon. My body wasn't made for it; journalists don't have time for that kind of training, and boy do marathoners look beat up by 26.2!
Boston comes alive on Marathon Monday, and it's impossible to ignore the sense of community, pride, and joy that surround the race. My desire to be a part of that trumped all of my excuses.
Nine months later I was signed on as a fundraiser for the Massachusetts Association for the Blind and Visually Impaired, and was running to and from work, and blocking out long hours on freezing cold Boston weekends to make sure I could cross the finish line come April. The days leading up to the race were filled with notes and phone calls from people across the city – they'd be out there cheering me on to the finish line.
But I didn't complete my first marathon. At mile 25.7, after already mentally penning my celebratory email ("I finished, I didn't walk once, and I NEVER HAVE TO DO IT AGAIN!") I hit a wall of dazed, shuffling athletes. "They won't let you finish," one man told me as I slowed to a stop. "There was an explosion."
---