Don't dismiss Millennials and our Internet memes
(Read article summary)
The Internet meme is my generation's protest sign, our letter to the editor, our political cartoon. Our digital commentary and social media campaigns represent an informed engagement that older generations shouldn't dismiss. And our online activities help push offline change.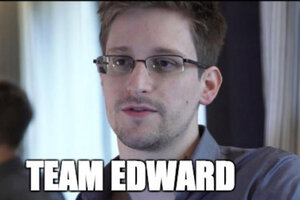 Photo: Glenn Greenwald & Laura Poitras/The Guardian/AP
Articles like Joel Stein's recent Time magazine cover story on "The Me Me Me Generation," as well as books like Mark Bauerlein's "The Dumbest Generation," are hallmarks of what has become quite a trend: legitimized "Millennial bashing."
They say we're lazy, narcissistic, and overly dependent on our electronics. That we're freeloaders who live at home for far too long.
Yes, some criticisms of those born between 1980 and 2000 are merited. But we Millennials are certainly more informed and engaged in civic discourse than our detractors realize. Our engagement just looks different than that of our boomer parents.
We're not just using social media to take "selfies." We are commenting on news, issues, public figures. My Facebook feed is populated by my peers posting articles and discussing topics both light-hearted and serious.
Perhaps the greatest testament to our generation's Internet commentary skills is our essential invention and popularization of the digital "meme" (rhymes with "cream").
---