Roubini: Greece debt crisis is only the tip of the iceberg
The Greece debt crisis should be a warning. History shows that unless this buildup of sovereign debt is tackled eventually by raising taxes and controlling spending, then there are only two outcomes: default or high inflation.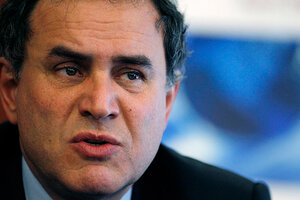 Mike Segar/Reuters/File
Nouriel Roubini, a professor of economics at New York University and chairman of Roubini Global Economics has come to be popularly known as "Dr. Doom" for having predicted the recent financial crisis. He is author of "Crisis Economics: A Crash Course in the Future of Finance." His comments here, which touch on the Greece debt crisis are adapted from remarks at the Milken Global Conference in Beverly Hills, Calif., on Wednesday, April 28.
Financial crises have occurred very often in history. They are caused by unsustainable bubbles that go bust, and from excessive risk taking and debt leveraging by the private sector during the bubble. Then, in the wake of, and as part of the response to, the economic downturn, government debts and deficits grow to unsustainable levels that can lead to default or inflation if not corrected. The crisis we are going through now follows this pattern.
Today there is a lot of talk about "deleveraging," yet the data shows that deleveraging has barely begun. Debt ratios in the corporate sector as well as households in the United States have essentially stabilized at high levels.
---