Will China's Communist Party prove James Madison wrong? Unlikely.
Ruling in China used to be like hammering a nail into wood. Now it is much more like balancing on a slippery egg. Whether the authorities can sustain their present balancing act seems doubtful.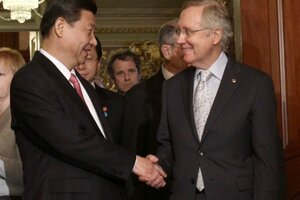 Harry Hamburg/AP Photo
James Madison famously remarked that a popular government without popular information, or the means of acquiring it, is but a prologue to a farce or a tragedy.
The present government of the People's Republic of China has set out to disprove this rule. Rejecting talk of farce and tragedy, its rulers claim their authority is rooted within a new and higher form of popular government, a "post-democratic" way of handling power, which delivers goods and services, promotes social harmony, and roots out "harmful behavior" using state-of-the-art information-control methods more complex and much craftier than Madison could ever have imagined.
How do these "post-democratic" methods work? The governing strategies of the Chinese authorities confirm the paradoxical rule that authoritarian regimes are much more sensitive to popular resistance than those of democracies. Information flows in China are not simply blocked, firewalled, censored. The authorities instead treat unfettered online citizen communication as an early warning device, even as a virtual steam valve for venting grievances in their favor.
Repressive tolerance of this kind resembles riding a wild tiger. Co-optation requires a vast labyrinth of surveillance that depends on a well-organized, 40,000-strong Internet police force. Skilled at snooping on Wi-Fi users in cyber cafes and hotels, it uses sophisticated "data-mining" software that tracks down keywords on search engines such as Baidu, along the way issuing warnings to web hosts to amend or delete content considered unproductive of "harmony."
---