WTO chief Pascal Lamy: Competitiveness must drive European growth
Europe is struggling to find its place in the new global economy because of 'domestic' issues, not external factors (like a rising China or trade disadvantages). On the contrary, the external climate favors European growth – if Europe can improve competitiveness and find its niche.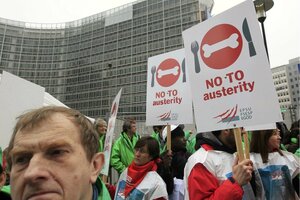 Yves Herman/Reuters
Editor's note:This is the second of two articles based on Pascal Lamy's recent talk to the Paris-based Notre Europe think tank, of which Mr. Lamy is the honorary president. Yesterday: "World must change the way it measures trade flows"
To explore the prospects for Europe in a global economy in the grip of change and development, we first have to put to bed two clichés that too often foul the debate and prevent it from making any progress.
The first cliché argues that Europe is a victim of the new international division of labor. All the available figures show us that that view is mistaken. In the change in production methods that we have witnessed over the past 20 years and more, Europe is coming out of things far better than either the United States or Japan.
Europe's market share of international trade has remained more or less stable throughout this period, hovering around the 20 percent mark, while the US and Japanese market shares have shrunk substantively. The European Union's foreign trade surplus in the industrial sphere has trebled over 10 years, hitting somewhere in the region of 200 billion euro.
---