Gordon Brown: 'Education without Borders' is a must for kids in conflict zones
Failure to protect the right to education for children in conflict zones fuels violence by drawing children to terrorist groups. In South Sudan, girls are more likely to die in childbirth than make it through primary school. The World Bank and IMF spring meeting must address this.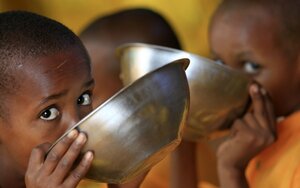 Thomas Mukoya/Reuters/file
Every child has a right to an education. Yet millions of children are living in countries where that right is systematically violated as a result of armed conflict. It is time for the international community to stop this state of affairs by getting serious about its responsibility to protect education in all countries, irrespective of the barriers created by armed conflict.
Education seldom figures in media reporting from conflict zones. Yet the effects are devastating. In eastern Democratic Republic of Congo, where the education system has collapsed in the face of mass displacement and ongoing violence, more than 1 million children are out of school. When the surge in refugees driven from Somalia by hunger and violence arrived in camps in northern Kenya last year, there was no provision made for additional education. And the conflict in Yemen has pushed tens of thousands of children out of school.
Apart from violating the rights of children, failure to protect the right to education fuels the cycle of violence. One of the greatest fears of Somali mothers in the refugee camps of northern Kenya is that limited opportunities for schooling will draw their children into the ranks of the Al Shabab, the Islamist militant group. You hear similar concerns among refugees from Darfur in the camps of eastern Chad.
---