We Egyptians are still marching forward toward democracy
Contrary to the global perception that Egypt is sinking into chaos, presidential election debates reflect hope for a new Egypt. Open debate between secular and Islamist groups was unthinkable over the past 60 years. This openness means the Egyptian body politic is maturing.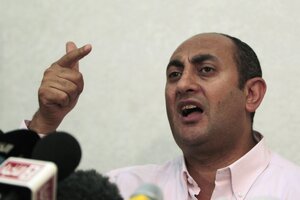 Ammar Awad/Reuters
A few days ago, I watched a debate between Amr Moussa and Abdel Moneim Aboul-fotoh, two of the leading candidates among the 13 running for president of Egypt. This stunning debate went on for more than four hours and was watched by millions of Egyptians and Arabs. Contrary to the perception around the world that Egypt is inexorably sinking into chaos and intolerance, this debate in many ways reflects the hope for a new Egypt following last year's January 25 revolution.
From the time of Ramses II, the strong pharaoh who ruled Egypt thousands of years ago, until last year, when Hosni Mubarak's reign ended, Egyptians were never able to witness a debate over who should take over the democratic reins in the highest office of the land. This in itself, together with the election of the parliament last December – in which 60 percent of eligible voters participated – are milestones in the history of the nation, paving a new, but rocky, path toward democracy.
Unlike in nearby Syria or earlier in Libya, the Egyptian Army has, in my view, taken the high road and protected the revolution in its infancy. And it has been the guardian of these unprecedented transparent elections.
The challenges facing the country, of course, are still monumental. Among the most serious problems are economic hardship, the uncertainty of the political climate, and the deterioration of security – a feature that Egyptian society faces anew.
These problems have been compounded over the past 15 months as each of the three main constituencies involved in the revolution – the Supreme Council of the Armed Forces (SCAF), which is in charge of the transition period; the politically liberal as well as Islamic-oriented parties; and the youth who triggered the uprising – has stumbled in one way or another. Even some of the people most thirsty to transform Mr. Mubarak's stagnant nation from a democracy-deficient to a democracy-rich society have, in despair, yearned for the old stability.
---