Gordon Brown: Europe needs a global rescue
The G8 summit at Camp David failed to find a plan for economic growth in Europe and to deal with a euro crisis that goes beyond debt. It may seem strange to propose that the world's second-richest continent needs a global rescue. But today's European consumers are too fearful to spend.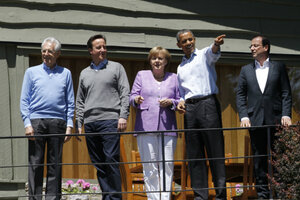 Charles Dharapak/AP
Another international summit has come and gone without any of the coordinated action that is vital if an ailing European economy is to be revived.
Confronted by a crisis whose resolution demands intervention on a par with the crash of 2008, last weekend's G8 communiqué was long on words and short on action. There were no concrete measures, least of all a plan to back up public pleas for growth. And, while next month's G20 meeting in Mexico could offer a second chance for coordinated action, there is no evidence of any pre-planning for such an initiative.
This failure of yet another international gathering has its origins in a fatal misdiagnosis. From the start, Europe's leaders have insisted that we face a public debt crisis, that its solution is austerity, and that if that solution is not working it is because we have not had enough austerity.
But Europe's problem is not simply the one-dimensional problem they describe. Europe also faces a crisis in the fundamentals of its banking sector, and another crisis in the failure of economic growth and competitiveness that affects every country on the continent with the sole exception of Germany.
Europe's propensity to delude itself was apparent four years ago, when, as the global financial crisis began, European leaders convinced themselves that their financial system was basically healthy, and had been the unlucky victim of Anglo-Saxon folly. At the first euro-area leaders' meeting in October 2008, my assertion that European banks were more dangerously overleveraged than America's, far too dependent on short-term market financing, and riddled with risk-laden subprime mortgages bought from the United States was met with skepticism, even incredulity.
---