Strengthen the euro and reform the European Commission
At a time of European debt crisis, when some see a common currency as a straightjacket, Europe must follow through and strengthen the euro. Europe must also move on political reform. One place to start: Elect the president of the European Commission, the EU's executive arm.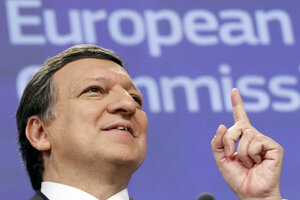 Sebastien Pirlet/Reuters
The greatest and most undeniable economic achievement of the euro is to have saved the European economy from fracturing in the economic and financial crisis unleashed by the collapse of Lehman Brothers. We know from the example of the 1930s how tempted national governments are to believe in times of economic crisis that devaluation and protectionism will serve the interests of their electors, and how devastating it is for all involved when national governments succumb to that temptation. The European single currency has acted and will continue to act as a powerful bulwark against any such tendencies.
Those who claim to regard the euro as simply a straitjacket from which national governments would do well to liberate themselves as soon as possible are in essence claiming that currency manipulation and economic nationalism are the royal road to prosperity. I do not believe that for a moment. Nor, ironically, do most of the euro's fiercest critics when they are talking about any other topic than the single European currency.
But the economic advantages of the euro have not simply been in warding off potential harm. Lower inflation, the elimination of exchange risk, increase in trade within the eurozone and more integrated European financial markets have all contributed to the underlying culture of monetary stability and economic predictability that the euro has brought to Europe. Well-run European economies, in particular Germany, have taken advantage of this stability to improve their economic performance, responding appropriately to the incentives and disciplines offered by the eurozone system.
Other member states of the eurozone have responded less successfully than has Germany to the challenges of the euro system. It is now more widely recognized that increasing debt in order to finance unproductive government operating expenditure is a dead end that undermines sustainable growth. But it is very difficult indeed to believe that these countries would have fared significantly better outside the eurozone.
---