Europe needs a central government to manage its debt crisis
As Spain's credit possibilities dry up, the strength of the eurozone is further tested. If the European Union is to shield against the negative effects of globalization – like the current debt crisis – it needs a fully empowered, legitimate central government, writes a former Polish prime minister.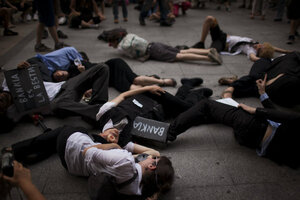 Emilio Morenatti/AP
Many discussions about the role of the European Union in the process of globalization seem unable to move away from one of two extreme positions. The first one sees the EU as a Trojan horse that brings globalization into the heart of Europe. The other suggests that the EU is, and has been, the best defense of the continent against any negative effects of globalization. The true picture lies somewhere in between.
It is impossible not to mention in this context the doctrine of mondialisation maitrisée, or managed globalization, introduced into EU policy by current World Trade Organization Director-General Pascal Lamy in 1999. That idea is usually thought to comprise the attempt to ensure that globalization (understood as the liberalization of international flows of goods, services, capital, and labor) is accompanied by formal rules that major players, including national governments, should obey.
The doctrine's implementation began with trade, since globalization usually starts with trade liberalization. Managed globalization thus dominated the EU trade policy through the major part of the previous decade. Its goal was to create strong international institutions with clear rules and the power to monitor and enforce them.
To this end, the EU has sought to extend the scope of those rules, both by trying to bring non-trade issues – like relations of trade to environment and culture – into the World Trade Organization, and by increasing the number of WTO members. In this respect, the WTO may thus be assessed as a success in the process of managing globalization. It has resulted in trade globalization being more controlled and more transparent.
---