A win-win road map for nuclear negotiations with Iran in Moscow
If the P5+1 insists on its hard line with Tehran, the Moscow negotiations will be doomed. The US and its allies must recognize that both sides have their own constraints as well as winning cards to play. If there is political will on both sides, the road map for a diplomatic solution is clear.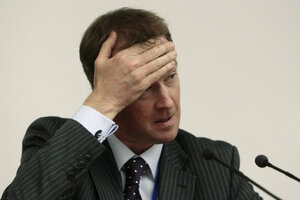 Sergei Karpukhin/Reuters
The next round of negotiations between Iran and the P5+1 group – the five permanent members of the United Nations Security Council plus Germany – begins in Moscow today. The initial optimism after the first round of negotiations in Istanbul gave way to caution after the Baghdad negotiations in late May. The developments over the past two weeks do not, however, bode well for the negotiations.
Helga Maria Schmid, senior adviser to Catherine Ashton, the European Union foreign policy chief who leads the P5+1 team, has sent a letter to her Iranian counterpart, Ali Bagheri, indicating that P5+1 will take a hard line in Moscow.
In her letter to Mr. Bagheri, Ms. Schmid has stated that the P5+1 is willing only to discuss the proposal she put on the table in Baghdad. According to that proposal Iran must immediately cease uranium enrichment at 19.75 percent, in return for which the P5+1 will make minor concessions to Iran – providing Iran with spare parts for its old civilian aircraft bought from Europe and the United States, supplying some nuclear isotopes used in medical treatment, and cooperating with Iran on nuclear safety issues.
---