Will America kill the curiosity that sent the rover to Mars?
The landing of the Mars Science Laboratory rover Curiosity on Mars marks a historic triumph for NASA, space exploration, and American innovation. But the endangered state of curiosity-driven basic research endangers America's capacity for future innovations.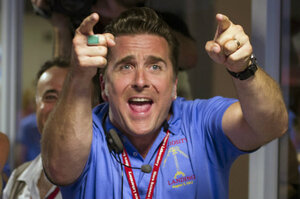 Bill Ingalls/NASA/AP/File
On Aug. 5, I was among a group of people who witnessed the rover landing on Mars in real time at NASA's Caltech-managed Jet Propulsion Laboratory in Pasadena. The excitement of this historic moment was overwhelming as we saw the one-ton, car-like Mars Science Laboratory (MSL) break through the Red Planet's atmosphere and slow its speed from 13,000 mph to zero. One glimpse of those first images more than 100 million miles away demonstrates America's leadership in innovation.
Appropriately named Curiosity, the Mars rover will, over the next two years, explore mysteries of our nearby planet. That is what science is all about – revealing the unknown. America's past investment in basic science and engineering is what led to such a triumph and undergirds its leadership in today's world. But this leadership is now threatened by decreased funding and increased bureaucracy, and this change could transform America's position, economically and politically.
---