Europe must overcome the politics of fear around the debt crisis
As the former prime minister of Greece, my experience with the debt crisis confirms my belief that this is a political crisis more than a financial one. We have adopted a passive, almost defeatist attitude in Europe. We must break this cycle of fear and mistrust now.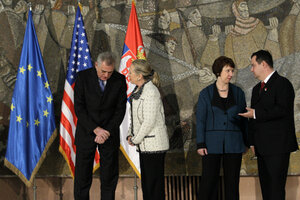 Darko Vojinovic/AP
To those who were surprised that the European Union received the Nobel Peace Prize, I say: "Think twice." This was not only a deserved award for Europe's contribution to bringing peace and stabilizing democracies in the recent past. The Nobel Committee was also sending a clear warning to contemporary leaders. I could almost hear them saying: "On this difficult odyssey, don't abandon ship. In today's world, the EU is too valuable to squander."
It was an indirect but powerful rebuttal to the dangerous nationalist and populist rhetoric some politicians have adopted when describing the recent financial crisis.
This message couldn't have come at a better time.
Like ghosts from the past, we see political violence, xenophobia, migrants being scapegoated, and extreme nationalism creeping into our public debates — even into our parliaments.
This is a Europe diverging from its founding principles. Principles that rendered nationalistic hatreds an anathema.
But it is these politics of fear that seem to have incapacitated Europe. A Europe seemingly incapable of ending this crisis, a fractious Europe. This has undermined a sense of trust between us, and in our European institutions. This climate does not inspire confidence either in our citizens or the markets. Nor will our retreat into a renationalization of Europe be the solution.
My recent experience in dealing with the financial crisis in Greece and in Europe has confirmed my belief that this is a political crisis more than a financial one.
I am convinced that, with the political will, we could have avoided much pain, squelched market fears and stabilized the euro, while at the same time reformed ailing, unsustainable economies such as ours in Greece.
---