China is the only country with a plan to secure scarce global resources
Competition for scarce resources is driving up commodity prices. China's strategy is to invest in resource-rich economies overlooked by the West. These economies are watching to see which model – US or Chinese-style capitalism and government – best delivers growth.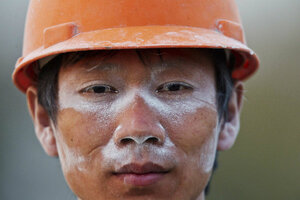 Aly Song/Reuters
Dambisa Moyo is an economist and the award-winning author of "Dead Aid." Her latest work is "Winner Take All." She was interviewed by Dawn Nakagawa of the Berggruen Institute on Governance.
DAWN NAKAGAWA: What is the central thesis of your new book, "Winner Take All"?
DAMBISA MOYO: The book basically looks at how supply and demand for commodities are going to shape the future. On the demand side we have a rapidly increasing population, from 7 billion today to 10 billion by 2100; an unprecedented rate of economic development and global wealth whereby the emerging markets will deliver 3 billion new people into the middle class; and finally, a massive rate of urbanization. These three factors are [straining] and will continue to strain commodity resources. On the supply side, there simply is not enough land, water, energy, and minerals to support these trends.
This competition for scarce resources is manifesting itself in higher commodity prices, which have increased 150 percent since 2009, and armed conflict. There have been about 25 wars the origins of which can be traced to commodities.
NAKAGAWA: Who will be the winners and losers in this competition?
MOYO: China is the only country with a systematic and deliberate plan for securing resources. There are three key pillars of their strategy:
First, they are investing in what I call the Axis of the Unloved – underdeveloped economies which have traditionally been overlooked by the Western developed countries as investment destinations: Latin America, Africa, Eastern Europe. China is making deals with these regions that are hungry for investment and economic development.
---