How Asia and China can revive the West's waning institutions
A world adrift desperately needs global thinkers, most of all from Asia. Singapore's Kishore Mahbubani fits the bill with his new book, in which he calls for a more robust UN, IMF, and WTO – led by the emerging global powers. Let's hope his optimism about this revival is justified.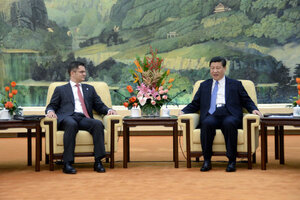 Wang Zhao/Reuters
The rise of Asia is the single most important historical development of our era. Yet, few voices from the region have stepped forward to address what role Asia, and above all China, must play in shaping Globalization 2.0 – an interdependent world in which no single nation has the upper hand.
In his new book, "The Great Convergence: Asia, the West and the Logic of One World," Kishore Mahbubani, dean of the Lee Kuan Yew School of Public Policy in Singapore, at last rises to the challenge. In a way, it is no surprise that a former UN ambassador from one of the smallest countries in Asia has the largest vision. Singapore – probably the most global state anywhere – has thrived by its wits in navigating the ever-shifting rapids of globalization.
Mr. Mahbubani's magnum opus is so far the most comprehensive and objective proposal out there to update the world institutions – the United Nations, the Bretton Woods organizations like the International Monetary Fund and World Bank, and the World Trade Organization – by accommodating them to the rise of the rest. Indeed, he evinces more faith in those institutions than their Western founders, who, as he acidly notes, are starting to see their own creation as a disadvantage now that power is shifting away from their control.
---