Egypt's misguided search for heroes
A change of mind-set about Egypt's history and future is necessary in that country. The history of nations is not defined by heroes in the presidential palace but by heroes on the street. Egypt must focus on building citizen-led institutions to best meet current and future challenges.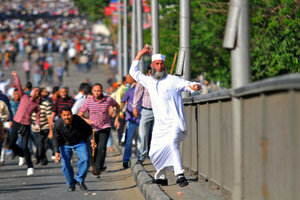 Mostafa Darwish/AP
The world has always been in search of heroes: heroes on the battlefield, on the basketball court and, most of all, in our politics, and this desire may be the greatest undoing for Egypt as it navigates its post-revolutionary period. Instead of an obsession with finding the next "hero," Egypt must focus on building citizen-led institutions to best meet current and future challenges.
Before the Egyptian revolution, the political conversation in Egypt – whether on talk shows that reach millions of Egyptians, on Twitter, on the radio or in cafes – focused entirely on Hosni Mubarak, his sons, and possible alternatives to them. But regardless of one's position, the discussion was focused entirely on leaders and looking for the next "great" leader to rescue the people and solve their problems.
The Egyptian revolution came as a shock to those who study Egypt and flew in the face of the theory that what Egypt needed was another "heroic" leader. The revolution was a leaderless one, and in many ways that is why it captivated the attention and imagination of the globe. It lacked the characteristics of a typical revolution – a charismatic leader or a strong army – but was rather the doing of "ordinary" people performing heroic acts. Yet in the months after the revolution, the impulse to search for a savior returned, as the conversation was fixated on the next president or prime minister who would solve all of Egypt's problems rather than on those who started the revolution in the first place, the people.
The Egyptians' longing for "heroic" leaders is rooted in a faulty understanding of history that mythologizes the role of a few and ignores the contributions of many. The history of Egypt is not defined by the greatness of the likes of [historical Egyptian leaders] Muhammad Ali or Saad Zaghloul alone, but rather by the heroic efforts of everyday people. If the Egyptian revolution taught us anything, it is that change is not a top-down concept, but rather a bottom-up one in which ordinary people drive change.
---