Google's Eric Schmidt: Internet will let Chinese rise up
In an interview, Google's Eric Schmidt and Jared Cohen say the connectivity of the digital age will empower individuals as never before. This will make revolutionary movements against autocratic regimes such as China easier to start – but harder to finish.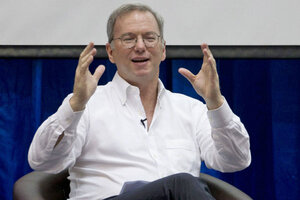 Gemunu Amarasinghe/AP/File
In an interview, Nathan Gardels talks to Google's Eric Schmidt and Jared Cohen about their new book, "The Digital Age: Reshaping the Future of People, Nations and Business." Mr. Schmidt is the executive chairman of Google. Mr. Cohen is the director of the Google Ideas think tank. Mr. Gardels is the editor of the Global Viewpoint Network and NPQ magazine.
NATHAN GARDELS: You paint an exciting portrait of the arriving digital age where most of the Earth's 8 billion future inhabitants will be empowered through technological inclusion and connectivity. The potential ranges from instant translation to health care through personalized DNA to thought-controlled motion technology for prosthetics.
But you don't shy away from the central paradox of the digital age: The more we know or learn though connected networks, the more is known and learned about us. Every click and search is recorded as "permanent data" on the "cloud." The same apparatus that enables unprecedented connectivity enables unprecedented surveillance of the individual.
---