Snooping vs. privacy – lessons for an age of transparency
It's not possible to stop a Bradley Manning or Edward Snowden. They reflect society's push for individualism, suspicion of authority, and digital transparency. Instead, the NSA, FBI, and others must embrace openness, and face greater oversight.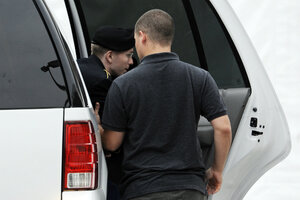 Cliff Owen/AP
It seems that almost daily that some elite organization is outed for snooping. The National Security Agency monitored traffic patterns from US telephones. Its PRISM program accessed troves of customer data from Internet firms like Microsoft and Apple. British intelligence used public websites to spy on diplomats. The US Postal Service has been logging our physical mail. The FBI admits using drones to tail suspects within the United States. News media are outraged by governmental leak investigations, while celebrities and politicians denounce spy outages by news organizations. Corporations swap our information for profit, without consultation or constraint.
Meanwhile, alarmed pundits denounce a new tool, Google Glass, the wearable computer that lets uber-geeks record everything they see while overlaying meta-data on the real world they're viewing.
Much of today's hand-wringing focuses rightfully on potential abuse of power. Both ends of the hoary political spectrum disagree over whether to most fear government or a rising corporate oligarchy, but all paladins of liberty share one dread: that despots will be tech-empowered by universal surveillance.
---