Turkey's president: Release Morsi to save Egypt
The coup that ousted Egypt's President Mohamed Morsi was a clear derailment of the democratic progress. In order to initiate dialogue and reconciliation in a dangerously divided Egypt, Mr. Morsi and other politicians who remain in detention should be released.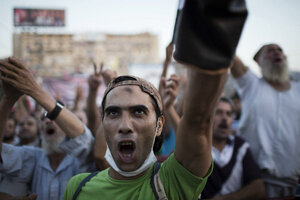 Manu Brabo/AP
Egypt has always been an engine of progress in its region and beyond throughout history. Despite certain setbacks, modern Egypt has also made huge progress and had leadership in the Arab world.
When the Egyptian people staged the January 25 Revolution in 2011, we immediately joined the pride of the Egyptian nation in their quest for freedom, democracy, and honor. I was the first head of state to visit Egypt after the revolution. Since then, Turkey has spared no effort to help consolidate democracy and development in Egypt and embrace all segments of its people.
Today, Egypt is going through a delicate process that will define not only her own future but also the fates of young democracies emerging after the Arab Spring. For Turkey, the coup that ousted President Mohamed Morsi, Egypt's first democratically elected president, was a clear derailment of the democratic progress. Of course, this unfortunate situation could have been averted by calling for early elections.
The people of Egypt have almost been split into two rival poles, dangerously rallying against each other. This situation is worrisome and unsustainable. Already, scores of people have lost their lives during demonstrations on streets and in squares. What we need now in Egypt is not a people split into two camps rallying against each other, but a nation rallying around its democracy and development.
---