The Internet will not survive unless we defend it
The open Internet that 2.5 billion people around the world rely on is under threat, as governments increasingly seek control of information flow. Only concerted moves by stakeholders can protect its valued openness. The US especially must set high standards for transparency and freedom.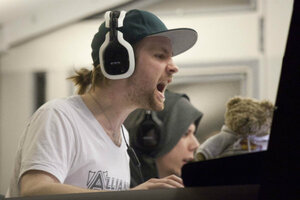 David Ryder/Reuters
The Internet as we know it is open, secure, and resilient. This is no mistake. It was designed and has evolved this way. Due to its open nature, the Internet has gained traction at a fantastic pace and transformed the world by fostering communication and innovation while generating tremendous economic growth. Roughly 2.5 billion people, more than one-third of the world's population, currently use the Internet, and another 2.5 billion individuals are expected to go online by the end of this decade.
But the open Internet that people the world over rely on is under threat. Only concerted moves by the stakeholders can protect its valued openness.
The Internet, as it transforms, has become a victim of its own success. The various groups that rely on Internet services – governments, corporations, and individuals of all types and purposes – have different needs. Sometimes these needs overlap, and sometimes they are at odds. However, sovereign governments are increasingly seeking control of their own domestic spheres as well as the flow of data and information between countries and, in doing so, are attacking the openness that represents one of the foundations of the Internet.
Nation-states are increasingly attempting to regulate social, political, and economic activity and content in cyberspace and, in many cases, suppress expression they view as threatening. Justifying their actions by claiming to protect children or national security, more than 40 governments have erected restrictions of information, data, and knowledge flow on the Internet.
Censoring the Internet takes many forms, including censorship of opinions (Vietnam, Saudi Arabia); censorship of specific websites or ISPs (Australia, Pakistan, Russia); censorship of specific information (China, Germany); demanding information be taken down (France, Singapore); demanding users' IP addresses (more than 50 countries); and erecting regulatory barriers to cross-border information flow (Brunei and Vietnam). More drastically, others including Iran, China, Saudi Arabia, and Russia have considered building national computer networks that would tightly control or even sever connections to the global Internet.
---