Bo Xilai trial was a satire, but still helped to further rule of law in China
In an interview, He Weifang, one of China's most pre-eminent advocates of the rule of law and judicial independence, says the trial of former politburo member Bo Xilai was a satire – but it still helped to advance rule of law in China.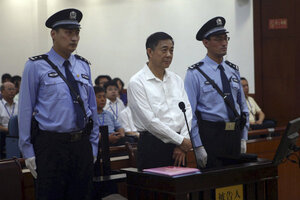 Jinan Intermediate People's Court/AP
He Weifang, a professor of law at Peking University, is one of China's most pre-eminent advocates of the rule of law and judicial independence. He gave this interview to the Global Viewpoint Network as the Bo Xilai trial concluded on Monday, Aug. 26.
GLOBAL VIEWPOINT: You once fought organized crime in Chongqing [where Bo Xilai was Community Party chief] and wrote "An Open Letter to the Legal Field in Chongqing" at a time when the administration of justice was entirely reduced to a tool for persecution. Now, the mastermind behind the scenes of the incidents in Chongqing's crackdown, Bo Xilai, is on trial. Do you feel that this counts as justice being upheld?
HE WEIFANG: In the several years of the so-called "crackdown on crime," Chongqing's authorities definitely instigated many activities that trampled on the rule of law, deprived the people of their wealth, and extracted forced confessions on a large scale. From Chongqing's official media reports at that time, Bo Xilai was the guiding force behind this wave of activities. That is to say, he was the person who was chiefly responsible for the many false and unjust cases that occurred in Chongqing.
In this trial, if the prosecution had also pursued suspected criminal activities by the defendant, including abuse of power and obstruction of justice while in Chongqing in addition to the cover-up of a homicide by Gu Kailai [Bo's second wife], then this case would have even greater significance. It could even open a door for overturning those cases of injustice in Chongqing.
During the trial of this case, Bo Xilai presented his own defense in court during the argument phase by saying, "In speaking my mind in court, I hope that the public prosecutor does not take this for a malicious act or a withdrawal of my confession. To prevent wrongful convictions, China established a system of mutual restraint among public security agencies, prosecutorial entities, and the courts. In particular, defense counsel is included in the system of mutual restraint between prosecutorial entities and the courts in order to prevent wrongful convictions. A huge number of wrongful convictions would result if only the prosecutorial entities' one-sided arguments are heard."
---