What's the best way to create more jobs?
With unemployment still hovering near 10 percent, politicians are scrambling to push policies they think will create jobs.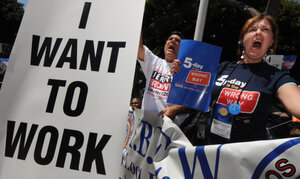 MARK RALSTON/AFP/Getty Images/Newscom
Boost demand, invest in ourselves
Boosting demand is the key to generating jobs in our economy.
The state fiscal relief and the extension of unemployment benefits Congress passed this summer were steps in the right direction. These are the most
effective and efficient ways to boost output in this kind of recession.
Congress should also consider – and pass – President Obama's proposal to increase infrastructure spending by $50 billion to invest in roads, rails, and runways. Our underinvestment in infrastructure threatens our economic competitiveness because every US business relies on our outdated transportation networks and electricity grids. Making long-term investments now that will boost job creation in the years to come is smart policy.
We need to extend and expand programs that put people to work. These include the Temporary Assistance to Needy Families Emergency Contingency Fund, which will have created 250,000 jobs by the end of September through public-private partnerships nationwide. The Local Jobs for America Act will create about 1 million jobs by providing $100 billion in funds over two years to protect state and local government jobs and create local government and nonprofit-sector jobs – if Congress passes it. And expanding our national service programs is an excellent way to meet pressing community needs while giving young workers job experience and tapping into older workers' skills and expertise.
---