What's the best way to modernize our transportation?
With a lagging economy, high unemployment, and aging transportation systems, Americans debate the best ways to invest in their infrastructure and stimulate economic activity – from high-speed rail and congestion pricing, to cutting pork and tapping private capital.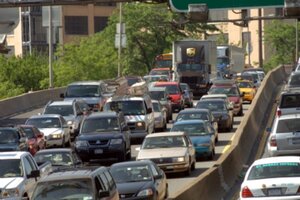 Frances Roberts/Newscom
High-speed rail is a big part of the answer
During the Great Depression, businesses and governments agreed that transportation modernization was essential to restoring prosperity. The 1930s saw the emergence of the freeway (the first one opening in Los Angeles in 1940) and the airport as important modes of transportation. Together with the National Interstate and Defense Highways Act of 1956, these Depression Era investments helped produce the long postwar economic boom and brought widespread prosperity to the United States.
As we face another dire economic crisis, we have a similar need for modernization and economic recovery. When gas prices soared in 2008, it helped push the unstable economy over the edge. Even in the depths of the worst recession in 60 years, gas prices remain at 2006 levels. Analysts such as those at Deutsche Bank predict that oil prices will rise again once job growth returns, threatening to strangle a recovery in its infancy.
High-speed rail will not only stimulate the economy during construction, but it will reduce our dependence on foreign oil, helping our economy to avoid future oil price shocks. It will also tie together the economies of mid-sized urban areas to the economies of large metropolitan cities through increased accessibility.
ONE MINUTE DEBATE: Should America's illegal immigrants be offered legal status?
---