Bush's peace opportunity in Congo
A large diplomatic presence there is key to peace.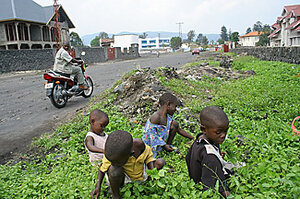 Jason Stearns
As President Bush wraps up his choreographed trip to Africa highlighting success stories, it's time to jump on the opportunity to build on recent progress toward ending one of the bloodiest conflicts of the last half century: the crisis in the Democratic Republic of Congo. Not only does Mr. Bush stand to gain a positive legacy in one of the most devastated corners of the world, but the United States can help the people of Congo shake off their decade-long nightmare.
As a report by the International Rescue Committee reminded us last month, some 5.4 million people have died, so far, in the conflict since 1998, mostly due to the humanitarian catastrophe engendered by the violence. Despite a peace deal signed in 2002 and relatively fair elections held in 2006, preventable death continues at the same pace – a staggering 45,000 people die each month, half of whom are children.
Now, finally, some good news: On Jan. 23, the government signed a peace deal with nine rebel groups in the eastern North Kivu region, where violence in the past year has displaced half a million.
And, for the first time in almost a decade, the US has put some diplomatic muscle to work to help find a solution. Tim Shortley, special adviser to assistant secretary of State for Africa, spent two weeks hunkered down in the eastern Congo, shuttling between rebel and government delegations just prior to the signing. Senior diplomats for the European Union and Belgium canceled appointments and followed suit in order to nail a final deal.
---