Thank you, 1st Lt. Shaun Blue, for a life of integrity and service
Do Americans truly appreciate the sacrifice that this marine made on their behalf?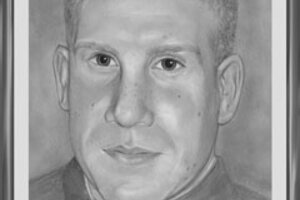 DARLA DIXON
It's been a year since I first heard the news. I was in Kuwait on April 17, 2007, preparing for my second tour in Iraq when I stopped to call my wife on the way to the chow hall. I'll never forget her crying when she told me that Shaun Blue, a fellow Marine lieutenant and a very close personal friend, had been killed in combat the day before in Iraq's Anbar Province.
I first met Shaun Blue in Quantico, Va., at Officer Candidate School, when he ran the initial three-mile portion of the physical fitness test (PFT) in 16 minutes. He finished first on the run, two minutes faster than his closest competitor.
When we arrived back in Quantico to attend The Basic School, Blue and I were assigned to the same squad, where I soon realized he could not only ace the Marine Corps PFT but every challenge the instructors tried to throw at him.
A top performer – and a helping hand
I've been told that three qualities that make a good Marine Corps officer are intellect, force of will, and character – with character being the most important. Blue showed me on several occasions he had all three attributes.
Though I struggled to get through the very challenging Infantry Officer Course, Blue seemed to glide through the difficulties effortlessly.
In these situations, other officers who probably looked better on paper than Blue crumbled under the mental and physical pressures. When we were tired, when it was cold and wet – that is when Blue excelled.
---