America's other deficit: leadership
A staggering 80 percent of survey respondents say we have a leadership crisis.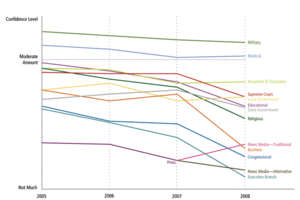 America has a full plate right now. Must we really add "leadership crisis" to that dish?
Apparently so. A startling 80 percent of the American people believe there is a leadership crisis in this country. In a nation so sharply divided on so many issues – politically and culturally – rare indeed is an 80 percent public consensus.
This view of American leadership, according to the latest survey [PDF] conducted by the Center for Public Leadership at Harvard Kennedy School and the Merriman River Group, is up substantially from the already high 65 percent reported when the annual survey began in 2005. And that 80 percent may well understate the degree of dissatisfaction existing today, since the survey was completed as the financial crisis was still unfolding this past September.
The first reaction of some may be to ask what the remaining 20 percent can possibly be thinking, given the pileup of policy failures on the part of our political leaders. Another reaction might be that the perceived "leadership crisis" may simply be a rough proxy for the public's dissatisfaction with the Bush administration and the current Congress.
But strikingly, our survey finds that the negative consensus on the nation's leadership goes beyond government – and reaches nearly every one of the country's most important sectors and institutions.
In the case of business, the executive branch of government, Congress, religion, education, the Supreme Court, and state government, the public's confidence in their leaders has suffered the biggest drop since our survey began. Not surprisingly, over the past year the single sharpest decline in the public's confidence registered against business leaders. Only Congress, the "alternative" news media, and the executive branch of the federal government inspired lower ranking.
---