Slowly, Bangladesh shows the world how change is possible
Challenge the assumption that something is impossible – then accept the risks and follow through.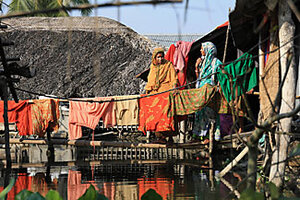 Keith Lane
Roughly 40 percent of Bangladesh's population lives at or below the poverty line. The odds are stacked against anybody willing to take on the seemingly insurmountable task of trying to help 150 million people move beyond a hand-to-mouth existence.
With so much poverty, pollution, environmental degradation, garbage, corruption, and traffic, it is easy to become suddenly overwhelmed with the feeling of hopelessness. Where to even begin? Cross-border issues such as terrorism, smuggling, and resource extraction only tip the scale further toward feelings of despair.
Yet what's happening in Bangladesh is a lesson in how to bring about change to a place where change doesn't seem possible.
International and national nongovernmental and government aid projects are in place. Money from foreign investors and donors continues to flow into the country. And a look over the past 37 years shows the country has made noticeable progress. To be sure, it is a work in progress.
The districts of Satkira and Khulna are currently experiencing massive annual floods. The flooding is due to a deadly combination of centuries of river management, monsoon rains, and low flood-plain conditions.
Development projects such as the Coastal Embankment Project (CEP) – which Bangladesh took on in the 1960s to create more farmland and protect the southern districts from tidal surges – dried up, dammed, and diverted the rivers. This caused valuable silt, needed to build and maintain the coastline and wetlands, to no longer reach its natural destination. Over time the silt began backing up, causing riverbanks to grow higher and the land to fall lower. Now when the higher riverbanks break they cause colossal months-long flooding.
---