Paul Ryan: Can the GOP leader make fiscal responsibility sexy for the iPod generation?
The growing burdens of Medicare, Medicaid, and Social Seurity are threatening my generation's future. But Republican Rep. Paul Ryan's bold plan for entitlement reform leads the way out. Young people just need to follow. As Ryan told me, "It's their future."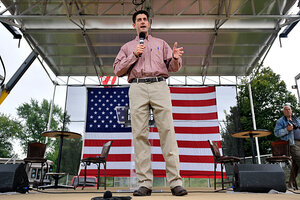 Scott Anderson/The Journal Times/AP
The same young voters who elected Barack Obama can lead the nation out of debt.
According to Congress's watchdog agency, the Government Accountability Office (GAO), entitlements – Medicare, Medicaid, and Social Security – will consume all tax revenue by 2040, leaving defense, education, and all other programs to be financed with debt.
To save the future, we need change now.
Youth activism presents a catalyst for entitlement reform. As Washington continues to rack up record deficits on the dime of future taxpayers, no voice would be more powerful in this debate than future taxpayers themselves.
Republican Paul Ryan gets this. He's the Wisconsin congressman with the bold plan for entitlement reform called the "Roadmap for America's Future," which continues to gain momentum across the country. His challenge is selling actuarial analysis to my younger generation.
---