Facebook 'likes' Newark schools. Now what? Invest wisely, Zuckerberg.
Newark schools need real change, not just the kind in Facebook CEO Mark Zuckerberg's piggy bank.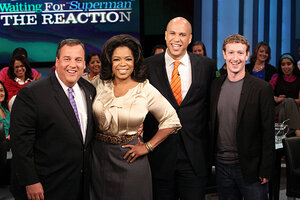 George Burns/Harpo Productions, Inc./AP
Facebook CEO Mark Zuckerberg just ponied up $100 million for the chronically failing Newark, N.J., public schools. Newark already spends $22,000 per year (twice the national average) on each of its 40,000 students, yet less than half graduate. That means the tab for each graduate's time in high school is – take a breath, dear taxpayer – more than $160,000. So will $100 million make a difference? Maybe – if Mr. Zuckerberg focuses it on what really counts.
Some tips: Put simply, teachers rule. Learning in any building rises or falls on the motivation, commitment, and talent of teachers. Yes, a student must want to learn, the parent(s) at home must back up the school each day, and a principal must maintain order. But the yellow brick road to an educated citizen is a series of competent, inspiring teachers using an enlightened curriculum.
Newark is no exception to the US achievement gap that besets low-income and minority students. So be very careful in funding anything that doesn't resonate with core instruction in reading, writing, math, and social studies in the primary grades. Include rigorous measurement. If it moves, test it.
---