Lieberman and Collins: Shipping industry must choose between Iran and the US
Iran thwarts economic sanctions through loopholes in international shipping regulations. 'Classification societies' give certifications (access to ports and international trade) to both Iranian and US vessels. These groups must end their conflicting role, which supports Iranian commerce.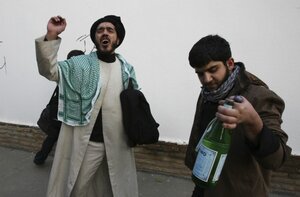 AP Photo/Vahid Salemi
For years, the United States and Europe have aggressively pursued tough multilateral sanctions to deter conduct by countries that runs contrary to international peace and security. Among the sharpest arrows in our diplomatic quiver, sanctions seek to isolate "rogue" states by denying them access to the benefits of the global economy.
Sanctions are particularly useful when aimed at countries like Iran, which has a history of conduct that directly threatens global security – including its latest egregious act, an alleged plot to assassinate the Saudi Arabian ambassador to the US.
Yet despite sanctions aimed at a broad range of economic activities, Iran and other rogue regimes continue to find ways to thwart these restrictions and engage in activities that fund dangerous pursuits. One such tactic involves the complex labyrinth of international shipping.
Iranian vessels are involved in importing nuclear material and exporting resources that provide the regime much needed currency, helping the country evade sanctions and further its development of a nuclear weapon. Multiple Iranian vessels have also been caught shipping weapons to terrorist groups, including Hamas and Hezbollah.
The nature of the international shipping industry – with numerous and frequently changing vessel owners, lessees, charterers, and sub-charterers (often shell companies), coupled with the inherent mobility of vessels – can make effectively applying sanctions extremely challenging.
---