Christopher Hitchens: 'God is not great' - but bookmobiles are
Author and staunch atheist Christopher Hitchens died yesterday, Vanity Fair reported. How did the man who could write on everything begin his life of learning? The bookmobile – a vital entity now in danger of becoming obsolete. Hitchens' mind was a testament to their ongoing necessity.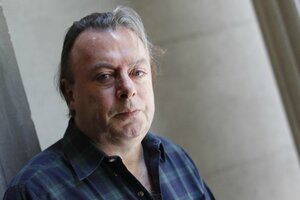 REUTERS/Shannon Stapleton
The death of Christopher Hitchens, the iconoclastic journalist and staunch atheist known for the breadth of his intellect and the depth of his convictions, is an occasion to reflect on what we've lost now that such a stellar mind is no longer a part of the public scene. But Mr. Hitchens' passing should also be a time to consider how a mind like his was sparked in the first place.
How did the man who could write on everything from Charles Dickens to Mother Teresa and Benazir Bhutto to Saul Bellow begin his life of learning?
Hitchens, in an essay published not long before his death, traced his intellectual origins to a bookmobile.
"When I was very young I lived in a remote village on the edge of an English moorland," Hitchens recalled. "Every week, a mobile library would stop near my house, and I would step up through the back door of a large van to find its carpeted interior lined with bookshelves.... If I live to see retirement, I would quite like to be a driver of such a vehicle, bringing books to eager young readers like a Librarian in the Rye."
Hitchens, alas, didn't live to indulge his senior years behind the wheel of a bookmobile. And even if he had survived, the celebrated essayist and political commentator might have had some trouble finding a job as a bookmobile driver.
As gas prices rise, more reading services migrate online, and local governments face cutbacks, bookmobile services in some communities have been curtailed or eliminated. As libraries increase digital collections, many of which can be accessed at the click of a button, bookmobiles might seem obsolete.
---