From a Jew: America can ignore Hanukkah. It needs Christmas.
Hanukkah can't compete with Christmas. And it shouldn't. Applying fairness to the holidays treats apples like oranges. So I say keep celebrating Christmas boldly, publicly, and without apology. It's the holiday of the majority and has become America's festival of hope and charity.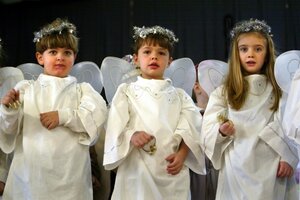 Melanie Stetson Freeman/The Christian Science Monitor
'Tis the season to be contentious. Yea, even downright litigious. Merry Christmas and Happy Lawsuit. Every year, like the eternal fruitcake, it happens again: Someone sues a city over a nativity scene. This year, Athens, Texas, is under fire. Or a governor calls the state Christmas tree a "Holiday" tree, and people get really riled up at this politically correct insult to Christmas. For the 2011 episode, see "Governor Chaffee Chafes Rhode Island." It's playing on the nearest web search.

But it's not just governments. Retailers can't seem to win either. A few years ago, Target got 700,000 individual complaints because it took a holiday-neutral approach in its marketing. No "Christmas" just "Holidays." Target apologized and brought Christmas back. But if they bring it back too vigorously, they'll be accused of ignoring their Kwanza-and-Hanukkah celebrating customers. And how about all those atheist/pagan/solstice-loving shoppers?
I can't speak for the latter group, but as one of those Jewish customers, I say please continue to ignore me and my holiday traditions. The problem with applying fairness to the holidays is that you end up treating apples like oranges. Or mistletoe like menorahs. Hanukkah just isn't like Christmas, despite the desperate efforts of marketers and Jewish parents of small kids suffering from Christmas-envy.

Lest you underestimate the pull Christmas has on little Jewish kids, let me tell you my Christmas story. I grew up in a neighborhood that was almost exclusively Jewish, and yet I became obsessed with Santa when I was six. He seemed like God himself, sitting on a throne, granting wishes, surrounded by angels in the form of elves. And there he was in the local mall.
---