Fellowship of the Christmas ham
Amid the nearly intolerable stress of the holidays, I smiled as I wrote 'pick up ham' on my Christmas to-do list. It was strange that I felt sentimental about my annual trip to the ham store. But it always put me in a festive mood, reminding me of the true joy of Christmas.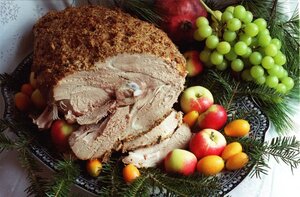 Melanie Stetson Freeman / The Christian Science Monitor
La Cañada Flintridge, Calif.
About the time I thought I was going to completely lose it from the stress of the holidays, I was suddenly struck with an unexpected heartwarming feeling. Oddly enough, this happened as I wrote the words "pick up ham" on my Christmas week to-do list.
It was strange that I felt sentimental about my annual trip to the ham store because I don't even care that much for the sugary-coated variety. I prefer the canned ham of my youth, even with the memory of its disturbing layer of gelatinous goo firmly etched in my mind. Some years back however, my parents switched us to this glazed type, claiming it tasted better. I suspect the truth was that my father liked that it was pre-sliced. So why was I suddenly looking forward to picking up the holiday ham?
Then I remembered.
I always do this chore on the 23rd, arriving about an hour before the store opens. In the long line with me are about 75 other ham seekers, bundled up in their coats with coupons in hand, who patiently wait together for that moment when the ham store employees open their doors. But it isn't that moment that I remember fondly, rather it's the hour spent in line with total strangers.
For one thing, that time standing outside the ham store is like a forced moment of calm between the hectic pace of the previous three weeks and the even more hectic pace of the upcoming three days, a nice breather from the exhausting holiday shopping, cleaning, wrapping, cooking, and hosting duties.
But mostly I enjoy talking with my fellow ham shoppers. It starts with the offer of an extra coupon. Then, once the ice has been broken, we are emboldened to move on to other ham-related topics like, "Have you ever tried their spicy mustard?" or fishing for special intelligence on the pies, "How's the French apple?"
The conversation often segues from the Christmas menu to anticipation over holiday plans. Last year, I chatted with a woman behind me who excitedly introduced a young girl at her side. "This is my granddaughter visiting all the way from South Carolina. It's her first time here, and she's all mine for two weeks!"
---
Follow Stories Like This
Get the Monitor stories you care about delivered to your inbox.